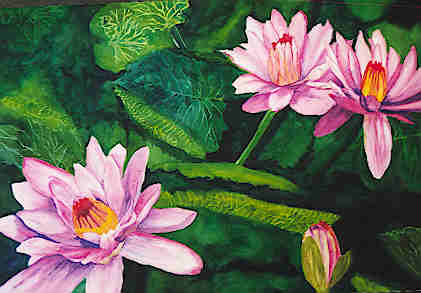 Artist Statement
Photography has been my passion for twenty years.  My photographs gave me inspiration and an artistic eye, and a tool to put images into paint.  This has fulfilled me as an artist. Photography had developed my intuitive understanding of value (tones) and composition. Design, art history and painting classes gave me increased technical skill and the artist's vision.
Affirmations came from fellow artists and the awards won for my paintings encouraging me to pursue further. I also enjoyed developing new techniques in a variety of mediums, passionate about learning all that I could.
I tell my stories through reflections of light, shadow, color, shape, and value. It's the joy of exploration and the act of creating… and sharing that joy with others where I find my passion. It's following my inner voice and watching the art take it's own direction.
Fine artist, instructor, illustrator, and muralist are the many creative directions art has taken me… I'm finally on my true course and loving it!
Thank you for visiting!
Susan is a part of San Rafael Art Works Downtown! Visit their website at: http://www.artworksdowntown.org/